The food
THE BREAKFAST
Unless specifically requested, the breakfast is served from 7:15 to 9:00 on weekdays and from 8:00 to 9:30 on weekends. A hearty breakfast is served and delicious. At your disposal :
coffee, tea, chocolate
fresh bread
butter
homemade yogurts
fruit juces

homemade cakes
cereals
eggs
homemade jams
without forgetting the crepes that have made the reputation of « La Cognée »
Here is an example of breakfast taken to "La Cognée". When you will come, perhaps you will not have exactly the same things because the content of the breakfast change every day !
Are you fan of hot chocolate for breakfast ? Obviously, I can make you a chocolate from a commercial product. But you might want to taste my  homemade chocolate that I shall prepare for you. How you prefer it ?
Nature
With cinnamon
With Espelette pepper
With coconut milk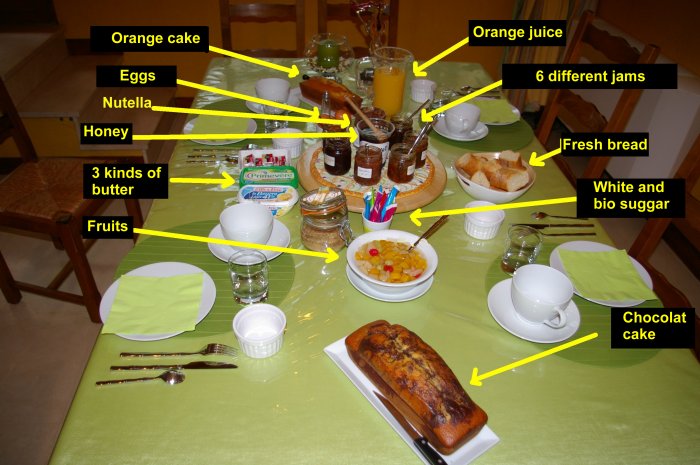 The dinner
No dish (from appetizer to dessert) is purchased. Everything is cooked in « La Cognée »
Trained at the hotel school in Toulouse, passionate by cooking, having the desire to share the conviviality and good humor, I suggest you find around my table.
The guest table is available every day,  from monday to sunday.

Different menus every night for 24 € (*) :
starter
main course
dessert
coffee or herbal tea
(*) : aperitif and wine will be charged in extra.

To help manage the dinner, we ask you kindly tell us if you want to have your meals at « La Cognée » at the time of booking. You can also enjoy the dinner during your stay in notifying us at least the day before.

My goal is to offer original menus, gourmet, based on selected regional products from local producers.  In « La Cognée », you can consult the list of producers that I have selected for your palate.
For children under 12, a menu at 14 € is specially concocted for them.
If you have any dietary restrictions, thank you let me know at the time of booking. I will try wherever possible to consider.
Here are some sample menus that will be offered during your stay :
STARTERS

MAIN COURSES

DESSERTS

Charlotte of asparagus and shredded ham
Burnt cream with duck liver
Scallop pie over leeks bed
Roquefort souffle
Small turnovers stuffed with lamb and prunes
Duck Confit Parmentier with yam
Curry chicken with lemon
Stuffed lamb shoulder surrounded by puff pastry
Duck breast with mandarin
Chicken tagine with olives and lemon
Raspberries, chocolate and meringue
Pear Charlotte
Tiramisu
Burnt cream with with candied orange and gingerbread
Strawberry and cream cake
If you want to see some picture of what my guests have eaten these last days, click on  "La Cognée" Facebook page. and consult the pictures classified in three sub-directories : appetizers, main courses and desserts (in French)